This information is from the following open textbook:

Communication in the Real World by University of Minnesota is licensed under a Creative Commons Attribution-NonCommercial-ShareAlike 4.0 International License.
When organizing your speech, you want to start with the body. Even though most students want to start with the introduction, I explain that it's difficult to introduce and preview something that you haven't yet developed. A well-structured speech includes an introduction, a body, and a conclusion. Think of this structure as a human body. This type of comparison dates back to Plato, who noted, "every speech ought to be put together like a living creature" (Winans, 1917). The introduction is the head, the body is the torso and legs, and the conclusion is the feet. The information you add to this structure from your research and personal experience is the organs and muscle. The transitions you add are the connecting tissues that hold the parts together, and a well-practiced delivery is the skin and clothing that makes everything presentable.
Organizing the Body of Your Speech
Writing the body of your speech takes the most time in the speech-writing process. Your specific purpose and thesis statements should guide the initial development of the body, which will then be more informed by your research process. You will determine main points that help achieve your purpose and match your thesis. You will then fill information into your main points by incorporating the various types of supporting material discussed previously. Before you move on to your introduction and conclusion, you will connect the main points together with transitions and other signposts.
Determining Your Main Points
Think of each main point as a miniature speech within your larger speech. Each main point will have a central idea, meet some part of your specific purpose, and include supporting material from your research that relates to your thesis. Reviewing the draft of your thesis and specific purpose statements can lead you to research materials. As you review your research, take notes on and/or highlight key ideas that stick out to you as useful, effective, relevant, and interesting. It is likely that these key ideas will become the central ideas of your main points, or at least subpoints. Once you've researched your speech enough to achieve your specific purpose, support your thesis, and meet the research guidelines set forth by your instructor, boss, or project guidelines, you can distill the research down to a series of central ideas. As you draft these central ideas, use parallel wording, which is similar wording among key organizing signposts and main points that helps structure a speech. Using parallel wording in your central idea statement for each main point will also help you write parallel key signposts like the preview statement in the introduction, transitions between main points, and the review statement in the conclusion. The following example shows parallel wording in the central ideas of each main point in a speech about the green movement and schools:
The green movement in schools positively affects school buildings and facilities.
The green movement in schools positively affects students.
The green movement in schools positively affects teachers.
While writing each main point using parallel wording is useful for organizing information at this stage in the speech-making process, you should feel free to vary the wording a little more in your actual speech delivery. You will still want some parallel key words that are woven throughout the speech, but sticking too close to parallel wording can make your content sound forced or artificial.
Once you get your series of main points drafted, you will then want to consider how you might organize them, which will help you narrow your list down to what may actually end up becoming the body of your speech.
Organizing Your Main Points
There are several ways you can organize your main points, and some patterns correspond well to a particular subject area or speech type. Determining which pattern you will use helps filter through your list of central ideas generated from your research and allows you to move on to the next step of inserting supporting material into your speech. Here are some common organizational patterns.
Topical Pattern
When you use the topical pattern, you are breaking a large idea or category into smaller ideas or subcategories. In short you are finding logical divisions to a whole. While you may break something down into smaller topics that will make two, three, or more main points, people tend to like groups of three. In a speech about the Woodstock Music and Art Fair, for example, you could break the main points down to (1) the musicians who performed, (2) the musicians who declined to perform, and (3) the audience. You could also break it down into three specific performances—(1) Santana, (2) The Grateful Dead, and (3) Creedence Clearwater Revival—or three genres of music—(1) folk, (2) funk, and (3) rock.
The topical pattern breaks a topic down into logical divisions but doesn't necessarily offer any guidance in ordering them. To help determine the order of topical main points, you may consider the primacy or recency effect. You prime an engine before you attempt to start it and prime a surface before you paint it. The primacy effect is similar in that you present your best information first in order to make a positive impression and engage your audience early in your speech. The recency effect is based on the idea that an audience will best remember the information they heard most recently. Therefore you would include your best information last in your speech to leave a strong final impression. Both primacy and recency can be effective. Consider your topic and your audience to help determine which would work best for your speech.
Chronological Pattern
A chronological pattern helps structure your speech based on time or sequence. If you order a speech based on time, you may trace the development of an idea, product, or event. A speech on Woodstock could cover the following: (1) preparing for the event, (2) what happened during the event, and (3) the aftermath of the event. Ordering a speech based on sequence is also chronological and can be useful when providing directions on how to do something or how a process works. This could work well for a speech on baking bread at home, refinishing furniture, or harvesting corn. The chronological pattern is often a good choice for speeches related to history or demonstration speeches.
Spatial Pattern
The spatial pattern arranges main points based on their layout or proximity to each other. A speech on Woodstock could focus on the layout of the venue, including (1) the camping area, (2) the stage area, and (3) the musician/crew area. A speech could also focus on the components of a typical theater stage or the layout of the new 9/11 memorial at the World Trade Center site.
Supporting Main Points
Types of Supporting Material
There are several types of supporting material that you can pull from the sources you find during the research process to add to your speech. They include examples, explanations, statistics, analogies, testimony, and visual aids. You will want to have a balance of information, and you will want to include the material that is most relevant to your audience and is most likely to engage them. Thinking about who your audience is and what they know and would like to know will help you tailor your information. Also try to incorporate proxemic information, meaning information that is geographically relevant to your audience. For example, if delivering a speech about prison reform to an audience made up of Californians, citing statistics from North Carolina prisons would not be as proxemic as citing information from California prisons. The closer you can get the information to the audience, the better. I tell my students to make the information so relevant and proxemic that it is in our backyards, in the car with us on the way to school or work, and in the bed with us while we sleep.
Examples
An example is a cited case that is representative of a larger whole. Examples are especially beneficial when presenting information that an audience may not be familiar with. They are also useful for repackaging or reviewing information that has already been presented. Examples can be used in many different ways, so you should let your audience, purpose and thesis, and research materials guide your use. You may pull examples directly from your research materials, making sure to cite the source. The following is an example used in a speech about the negative effects of standardized testing: "Standardized testing makes many students anxious, and even ill. On March 14, 2002, the Sacramento Bee reported that some standardized tests now come with instructions indicating what teachers should do with a test booklet if a student throws up on it." You may also cite examples from your personal experience, if appropriate: "I remember being sick to my stomach while waiting for my SAT to begin."
You may also use hypothetical examples, which can be useful when you need to provide an example that is extraordinary or goes beyond most people's direct experience. Capitalize on this opportunity by incorporating vivid description into the example that appeals to the audience's senses. Always make sure to indicate when you are using a hypothetical example, as it would be unethical to present an example as real when it is not. Including the word imagine or something similar in the first sentence of the example can easily do this.
Whether real or hypothetical, examples used as supporting material can be brief or extended. Brief examples are usually one or two sentences, as you can see in the following hypothetical example: "Imagine that your child, little sister, or nephew has earned good grades for the past few years of elementary school, loves art class, and also plays on the soccer team. You hear the unmistakable sounds of crying when he or she comes home from school and you find out that art and soccer have been eliminated because students did not meet the federal guidelines for performance on standardized tests." Brief examples are useful when the audience is already familiar with a concept or during a review. Extended examples, sometimes called illustrations, are several sentences long and can be effective in introductions or conclusions to get the audience's attention or leave a lasting impression. It is important to think about relevance and time limits when considering using an extended illustration. Since most speeches are given within time constraints, you want to make sure the extended illustration is relevant to your speech purpose and thesis and that it doesn't take up a disproportionate amount of the speech. If a brief example or series of brief examples would convey the same content and create the same tone as the extended example, I suggest you go with brevity.
Explanations
Explanations clarify ideas by providing information about what something is, why something is the way it is, or how something works or came to be. One of the most common types of explanation is a definition. Definitions do not have to come from the dictionary. Many times, authors will define concepts as they use them in their writing, which is a good alternative to a dictionary definition.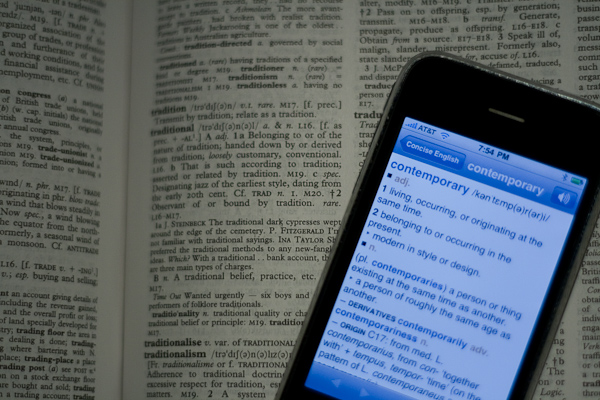 As you do your research, think about how much your audience likely knows about a given subject. You do not need to provide definitions when information is common knowledge. Anticipate audience confusion and define legal, medical, or other forms of jargon as well as slang and foreign words. Definitions like the following are also useful for words that we are familiar with but may not know specifics: "According to the 2011 book Prohibition: 13 Years That Changed America, what we now know as Prohibition started in 1920 with the passage of the Volstead Act and the ratification of the Eighteenth Amendment." Keep in mind that repeating a definition verbatim from a dictionary often leads to fluency hiccups, because definitions are not written to be read aloud. It's a good idea to put the definition into your own words (still remembering to cite the original source) to make it easier for you to deliver.
Other explanations focus on the "why" and "how" of a concept. Continuing to inform about Prohibition, a speaker could explain why the movement toward Prohibition began: "The Eighteenth Amendment to the Constitution gained support because of the strong political influence of the Anti-Saloon League." The speaker could go on to explain how the Constitution is amended: "According to the same book, a proposed amendment to the Constitution needs three-fourths of all the states to approve it in order to be ratified." We use explanations as verbal clarifications to support our claims in daily conversations, perhaps without even noticing it. Consciously incorporating clear explanations into your speech can help you achieve your speech goals.
Statistics
Statistics are numerical representations of information. They are very credible in our society, as evidenced by their frequent use by news agencies, government offices, politicians, and academics. As a speaker, you can capitalize on the power of statistics if you use them appropriately. Unfortunately, statistics are often misused by speakers who intentionally or unintentionally misconstrue the numbers to support their argument without examining the context from which the statistic emerged. All statistics are contextual, so plucking a number out of a news article or a research study and including it in your speech without taking the time to understand the statistic is unethical.
Although statistics are popular as supporting evidence, they can also be boring. There will inevitably be people in your audience who are not good at processing numbers. Even people who are good with numbers have difficulty processing through a series of statistics presented orally. Remember that we have to adapt our information to listeners who don't have the luxury of pressing a pause or rewind button. For these reasons, it's a good idea to avoid using too many statistics and to use startling examples when you do use them. Startling statistics should defy our expectations. When you give the audience a large number that they would expect to be smaller, or vice versa, you will be more likely to engage them, as the following example shows: "Did you know that 1.3 billion people in the world do not have access to electricity? That's about 20 percent of the world's population according to a 2009 study on the International Energy Agency's official website."
You should also repeat key statistics at least once for emphasis. In the previous example, the first time we hear the statistic 1.3 billion, we don't have any context for the number. Translating that number into a percentage in the next sentence repeats the key statistic, which the audience now has context for, and repackages the information into a percentage, which some people may better understand. You should also round long numbers up or down to make them easier to speak. Make sure that rounding the number doesn't distort its significance. Rounding 1,298,791,943 to 1.3 billion, for example, makes the statistic more manageable and doesn't alter the basic meaning. It is also beneficial to translate numbers into something more concrete for visual or experiential learners by saying, for example, "That's equal to the population of four Unites States of Americas." While it may seem easy to throw some numbers in your speech to add to your credibility, it takes more work to make them impactful, memorable, and effective.
Tips for Using Statistics
Make sure you understand the context from which a statistic emerges.
Don't overuse statistics.
Use startling statistics that defy the audience's expectations.
Repeat key statistics at least once for emphasis.
Use a variety of numerical representations (whole numbers, percentages, ratios) to convey information.
Round long numbers to make them easier to speak.
Translate numbers into concrete ideas for more impact.
Analogies
Analogies involve a comparison of ideas, items, or circumstances. When you compare two things that actually exist, you are using a literal analogy—for example, "Germany and Sweden are both European countries that have had nationalized health care for decades." Another type of literal comparison is a historical analogy. In Mary Fisher's now famous 1992 speech to the Republican National Convention, she compared the silence of many US political leaders regarding the HIV/AIDS crisis to that of many European leaders in the years before the Holocaust.
My father has devoted much of his lifetime to guarding against another holocaust. He is part of the generation who heard Pastor Niemöller come out of the Nazi death camps to say, "They came after the Jews and I was not a Jew, so I did not protest. They came after the Trade Unionists, and I was not a Trade Unionist, so I did not protest. They came after the Roman Catholics, and I was not a Roman Catholic, so I did not protest. Then they came after me, and there was no one left to protest." The lesson history teaches is this: If you believe you are safe, you are at risk.

A figurative analogy compares things that are not normally related, often relying on metaphor, simile, or other figurative language devices. In the following example, wind and revolution are compared: "Just as the wind brings changes in the weather, so does revolution bring change to countries."
When you compare differences, you are highlighting contrast—for example, "Although the United States is often thought of as the most medically advanced country in the world, other Western countries with nationalized health care have lower infant mortality rates and higher life expectancies." To use analogies effectively and ethically, you must choose ideas, items, or circumstances to compare that are similar enough to warrant the analogy. The more similar the two things you're comparing, the stronger your support. If an entire speech on nationalized health care was based on comparing the United States and Sweden, then the analogy isn't too strong, since Sweden has approximately the same population as the state of North Carolina. Using the analogy without noting this large difference would be misrepresenting your supporting material. You could disclose the discrepancy and use other forms of supporting evidence to show that despite the population difference the two countries are similar in other areas to strengthen your speech.
Testimony
Testimony is quoted information from people with direct knowledge about a subject or situation. Expert testimony is from people who are credentialed or recognized experts in a given subject. Lay testimony is often a recounting of a person's experiences, which is more subjective. Both types of testimony are valuable as supporting material. We can see this in the testimonies of people in courtrooms and other types of hearings. Lawyers know that juries want to hear testimony from experts, eyewitnesses, and friends and family. Congressional hearings are similar.